Connor and Carl
Pug Brothers!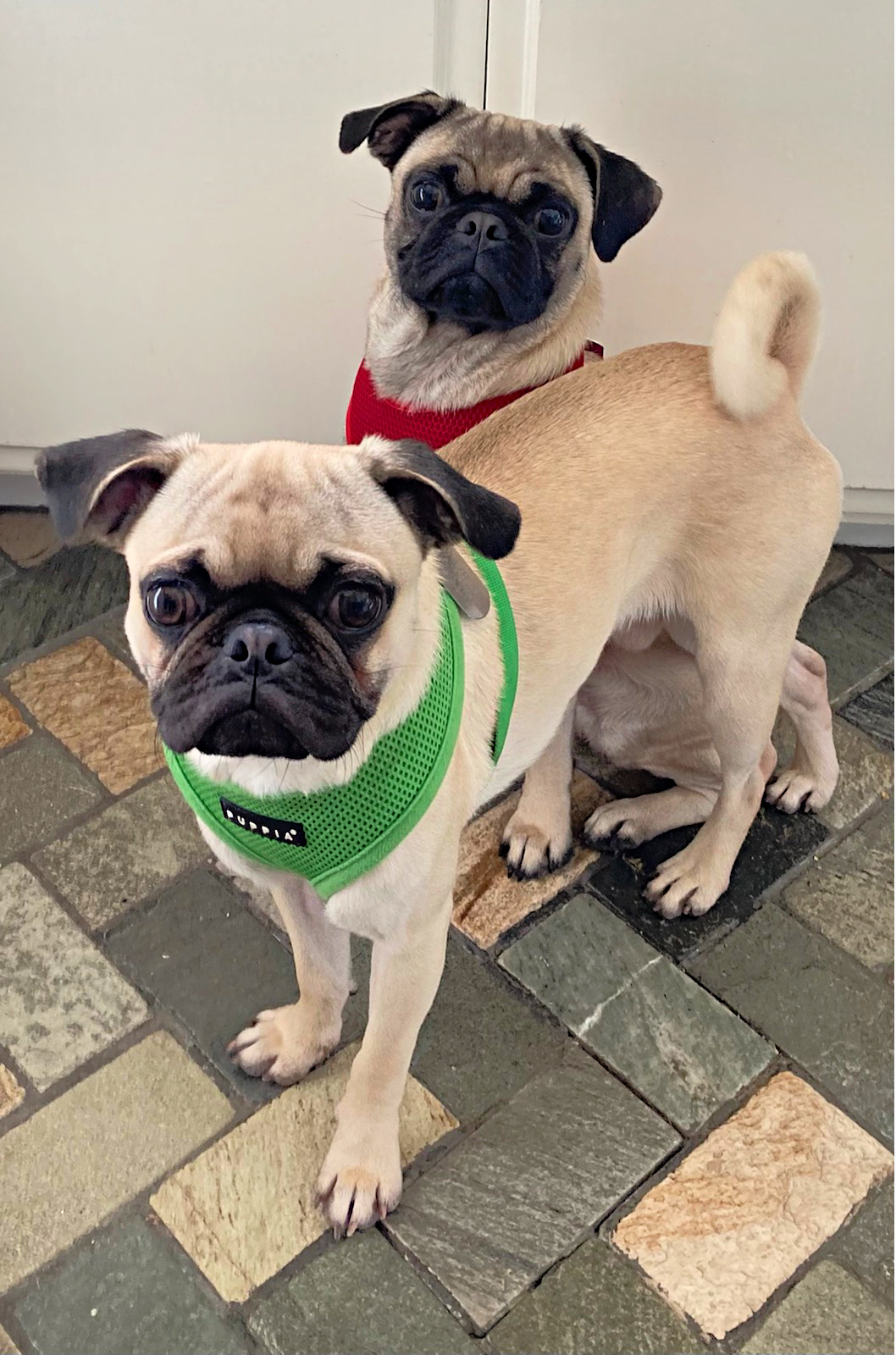 What's better than a Pug dog? A pair of Pug puppies! Connor and his brother Carl were abandoned in a cage behind Walmart. A good Samaritan rescued them, and contacted us for help. The boys did not have collars and were not microchipped. We searched for an owner for a month, and now the boys need to find their forever family. These purebred Pug boys are about 9 months old, and perfectly healthy. We had them fully vaccinated and microchipped, and they will be neutered soon. It's clear that Connor and Carl had not been living inside a home. They did not know what a collar or leash were, and were not at all house trained. They are very energetic young dogs who love to run and play, then crash for a deep sleep. Connor and Carl are friendly, happy and get along well with other dogs. They are very affectionate, devoted and smart. After working with our foster mom, they now understand the concept of peeing outside, but will still need training. Connor and Carl are typical puppies that have a lot of energy to play, love to chew their toys, but once they settle down, they are very cuddly. Any adopter will need the patience and energy to train these two young Pugs. We would love for these adorable Pug brothers to stay together. We will only be adopting out to the Los Angeles or Orange County area. We anticipate a lot of interest in these happy Puggies, and will not be able to answer all email inquiries. If you'd like to meet them, please complete our adoption application found on dexterfoundation.com We will contact everyone who is a good match for a meet and greet. Unfortunately, we can only choose one family. Adoption donation $600 for the pair to offset their vet expenses.
Go to Adoption Application
Our Dogs
Can you help support more successful adoptions? More and more wonderful dogs are being abandoned by their owners, especially the elderly, ill, or abused. Help us find them the new loving forever homes they deserve!
Ways To Help
We Depend On Donations and Volunteers To Keep Saving Lives
To help us further with our mission in supporting abandoned dogs, please consider either making a donation or looking at other easy ways to help.